Main content starts here, tab to start navigating
About Us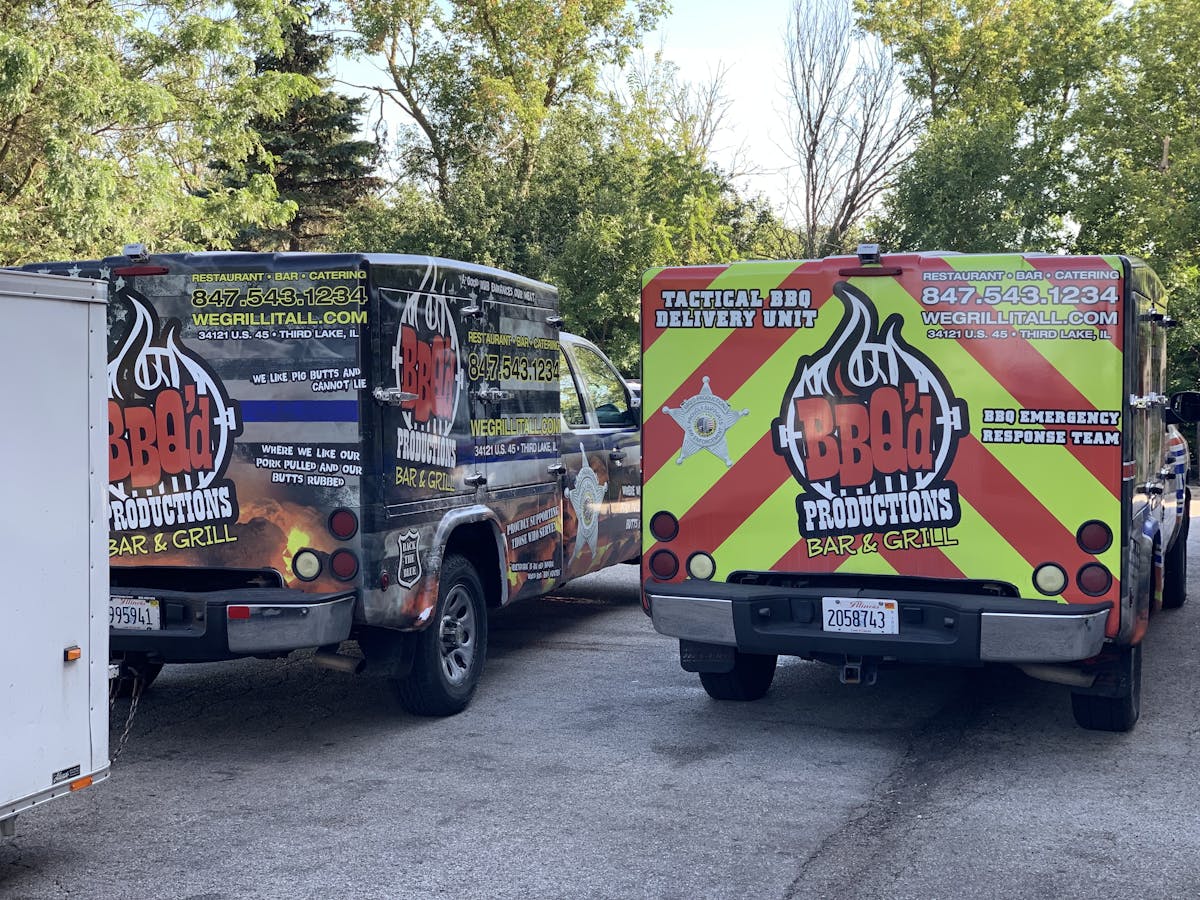 "We have worked very hard to bring the best possible food and most unique dining experience to you! Thank you so much for visiting our website, and we look forward to having you as our guest soon!"
– Kris, Moriah and Hunter Schoenberger
Our Story
BBQ'd Productions got its' unlikely start in Kris Schoenberger's backyard with his love of entertaining friends and family at his routine and highly attended cookouts. With a firm push of encouragement from his mother, after Kris was laid off from his position at the local Police Department, BBQ'd Productions was born. Starting with a single trailer as a mobile catering company, BBQ'd Productions was a virtual overnight success as demand for their product grew after each and every catering event. Over the next several years, BBQ'd Productions quickly grew by adding multiple trailers to its fleet and opening its first restaurant in 2014. Since then we've grown to more locations, including Lake Zurich and Kenosha, WI! Plus, we've branched out and offer multiple catering options, like Boxed Lunches and Full-Service Catering Packages for larger events. Through it all, BBQ'd Productions has remained committed to providing our guests the highest quality ingredients in a relaxed and fun atmosphere where memories are made through developing a culture in our company that is based on our core values and supported by team members who are committed to delivering on these values.
Family
We believe there is nothing more important than family, which includes our extended restaurant and catering family of guests and team members. To us, family represents Love, Togetherness, and people who always have your back.
Be Somebody for Somebody
Through our day to day actions as owners, managers, and team members, we strive to be role models in the communities we do business and to inspire people to be their very best and do more in their lives.
Experiences
There are joyful events in our lives that are truly unforgettable and ones that you can't put a price tag on. Our goal is to create memories for our guests every time they dine with us. Ultimately, we see it as our job to make their day.
Fun
Life should be fun and full of laughter. We want to inspire an atmosphere where fun and laughter happen every day for our guests, team members, and ourselves. Fun is what keeps our guests coming back time and time again, and takes the word ``work`` out of our team members' day.
Uniqueness
We want to create a dining experience you can't get anywhere else. We do this by purchasing only the highest quality ingredients, creating a fun dining experience, and by maintaining clean and comfortable facilities.
Partnerships
Our success is dependent on the partnerships we make with our community and their leaders, the vendors we do business with, the team members we hire and ultimately the guests we serve. We value each relationship we forge and will honor the commitment we make with all of our partners.